by all_powerful_Oz —
last modified

25 Apr, 2017 06:00 PM
Collective Worship in Schools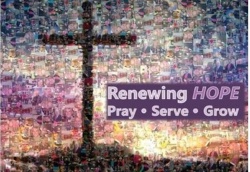 A day course focused on leading and supporting the leadership of Collective Worship in schools. This course will consider the role of clergy and parish in enabling and encouraging high quality collective worship.

We will examine the legal requirements and the current debate around Collective Worship; consider the expectations of SIAMS; focus on planning for and delivery of high quality acts of worship; how to support the monitoring of Collective Worship and the involvement of pupils in planning, leading and evaluating school worship. We will also look at current resources.

Verity is Diocesan Adviser for RE, Collective Worship and Spirituality.

Course details
Where

Diocesan Education Centre, Wilton SP2 0FG

When

10:00 - 16:00, Tuesday 2 May 2017

Led by

Verity Holloway

Course suitable for

OM LM Other

Course category

CMD

Department

Discipleship & Training

Availability

Places available

Cost per place

FREE

Booking deadline

Monday, 1 May 2017, 12:00am
Login/Sign-up to book this course ›