by all_powerful_Oz —
last modified

25 Apr, 2017 08:00 PM
Listening to your Life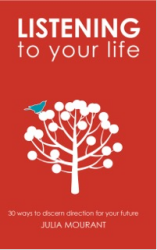 Living out of a deep sense of vocation is life giving, but in order to keep drawing on that well we need to review where we are from time to time, and sometimes even make significant changes.

Are you living from a sense of vocation and call? Do you need to stop and take your bearings in life, in relation to spirituality, work, priorities, learning and growth? Are you being sustained by the resources in your life? Do you have major decisions to make or are you at a time of significant transition?

Drawing on material from her recent book `Listening to Your Life`, Julia Mourant offers a series of prayerful reflections which engage with intuition and imagination as well as rational thought processes. The day offers a context for stillness, space and discernment, whether you need a quick check on your sense of direction or a complete review of your trajectory.

Julia Mourant is an Associate DDO in the Diocese of Salisbury and an experienced coach and mentor.

Course details
Where

Durweston Village Hall

When

10:00 - 16:00, Tuesday 25 April 2017

Led by

Julia Mourant

Course suitable for

OM LM LPA LWL

Course category

CMD

Department

Discipleship & Training

Availability

Bookings closed

Cost per place

FREE

Booking deadline

Monday, 24 April 2017, 12:00am
Login/Sign-up to book this course ›
The booking deadline has passed for this course, so you cannot now make a booking.