by all_powerful_Oz —
last modified

12 Dec, 2017 10:00 PM
Away in a Manger
Book early to avoid disappointment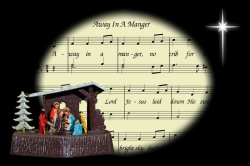 Make your own Christmas Crib using readily available art materials such as card, fabric, inks and paints. A focus for prayerful devotion in a church or classroom setting or in your own home this Christmas.

Sophie was formerly artist in residence at Sarum College and is now Arts and Exhibitions Consultant at Winchester Cathedral.

Numbers are limited to 15 and Sophie's workshops are always popular so book early to avoid disappointment!

Course details
Where

Sarum College SP1 2EE

When

10:00 - 16:00, Tuesday 12 December 2017

Led by

Sophie Hacker

Course suitable for

OM LM

Course category

CMD

Department

Discipleship & Training

Availability

Bookings closed

Cost per place

FREE

Booking deadline

Monday, 11 December 2017, 12:00am
Login/Sign-up to book this course ›
The booking deadline has passed for this course, so you cannot now make a booking.