by all_powerful_Oz —
last modified

26 Sep, 2017 10:00 PM
Hospital Visiting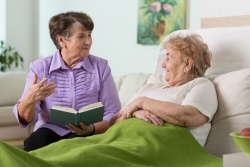 As an LPA you may be asked to visit the sick from your parish who are in hospital. That may not feel comfortable if you are not familiar with the hospital environment. The Chaplaincy Team offer a session on how to do a 'good visit' in a sensitive and easy manner. Or you may be a keen hospital visitor who would like to explore becoming a Lay Chaplain. This is an opportunity to find out more about what's involved.

An earlier date for this event is on Thursday 30 March 7 – 9.30 pm.

The Chaplaincy Team at Salisbury District Hospital consists of a team of Ecumenical Chaplains who are available for all faiths or none. Revd Kim Stephens and Revd Frances Canham are the Anglican Chaplains.


Course details
Where

Salisbury District Hospital SP2 8BJ

When

14:00 - 16:30, Tuesday 26 September 2017

Led by

The Hospital Chaplaincy Team

Course suitable for

LPA

Course category

CMD

Department

Discipleship & Training

Availability

Bookings closed

Cost per place

FREE

Booking deadline

Monday, 25 September 2017, 12:00am
Login/Sign-up to book this course ›
The booking deadline has passed for this course, so you cannot now make a booking.