Multi Parish Holy Week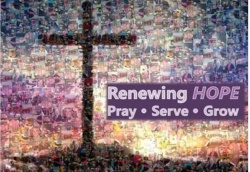 Holy Week is the most solemn and profound period of the Christian year. The liturgical riches are plentiful but how best to use them when ministering and worshiping in rural multi parish benefices? How can we deliver Holy Week imaginatively when our buildings are many and our resources are perhaps stretched thin? An opportunity to think theologically and creatively about how we can use available resources and devise new ones.

Tom Clammer has been a rural parish priest, and more recently Canon Precentor of Salisbury Cathedral. He is now a freelance theologian, educator and spiritual accompanier.

Course details
Where

Dinton Village Hall, SP3 5EB

When

10:00 - 16:00, Tuesday 5 February 2019

Led by

Tom Clammer

Course suitable for

All

Course category

CMD

Department

Discipleship & Training

Availability

Places available

Cost per place

FREE

Booking deadline

Monday, 28 January 2019, 12:00am
Login/Sign-up to book this course ›