by all_powerful_Oz —
last modified

16 Nov, 2017 10:00 PM
Reading Scripture Together: Children and the Bible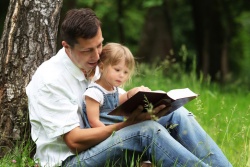 This day wrestles with two questions. Why would we read the bible with children? How do we read the bible with children? The bible is ancient and complex literature not particulary suitable for children. A lot of the material in the bible is 15 or even 18-rated. We explore what the bible says about children and what children say about the bible.

Anna-Claar is programme leader for lifelong learning at Sarum College. Her passion is in bringing the ancient biblical text alive to challenge and encourage any audience. She is currently researching the four women in Matthew's genealogy of Jesus.

Course details
Where

Sarum College SP1 2EE

When

10:00 - 16:00, Thursday 16 November 2017

Led by

Anna-Claar Thomasson-Rosingh

Course suitable for

OM LM

Course category

CMD

Department

Discipleship & Training

Availability

Bookings closed

Cost per place

FREE

Booking deadline

Wednesday, 15 November 2017, 12:00am
Login/Sign-up to book this course ›
The booking deadline has passed for this course, so you cannot now make a booking.