by all_powerful_Oz —
last modified

01 Jul, 2022 06:00 AM
Virtual PSA Subscription Course: Foundation Governors Professional Development Session 3 of 3 - 06/07/22
The Department for Education identify 6 key features of effective governance in their Governance Handbook. Across 3 separate sessions, we will learn more about how we can better fulfil the expectations of each feature as Foundation Governors.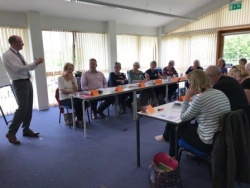 In Session One we focused entirely on the first 'key feature of effective governance', that of "strategic leadership that sets and champions vision, ethos and strategy".

In Session Two, we moved on to consider "accountability that drives up educational standards and financial performance".

During this session - Session Three, we will conclude our series by giving attention to the remaining 4 key features; "people", "structures", "compliance" and "evaluation".

Our aim through these sessions will be to learn together how we can better fulfil the responsibilities that have been assigned to us as Foundation Governors in our context, and play our part in the effective governance of our church schools, academies and Trusts.

These sessions are for all Foundation Governors and although the maximum benefit will be realised through attendance on all three, they are designed to stand alone so that individual governors might choose one or more sessions to attend that have the particular relevance to them.

Please note you will need to book each session separately.
Course details
| | |
| --- | --- |
| Where | Virtual via Zoom |
| When | 09:30 - 13:00, Wednesday 6 July 2022 |
| Led by | Dan Roberts |
| Course suitable for | Foundation Governors, Chair of Governors, Ex Officio Governors, Clergy |
| Course category | Leadership - Headteachers & Governors |
| Department | School/Parishes |
| Availability | Places available |
| PSA cost | PSA Schools: Free Non PSA Schools: £50 + VAT |
| Booking deadline | Monday, 4 July 2022, 12:00am |
Login/Sign-up to book this course ›