In the Gospels, Jesus demonstrates value, nurture, and hospitality towards children. He shows they are significant in the Kingdom of God. He places children in his midst and rebukes those who were seeking to prevent this.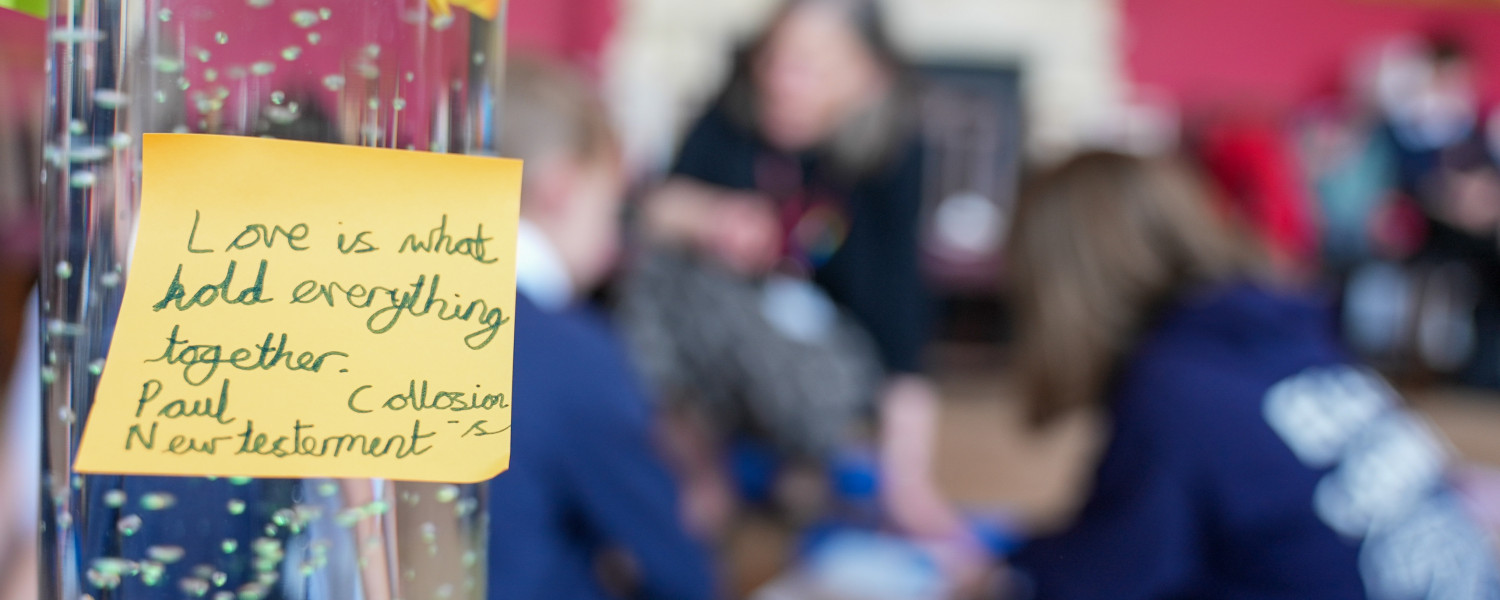 The Hub model draws on this to help the church have a practical way to refocus on children where they are, to value, as Christ did, their open-hearted engagement and to remove barriers that sometimes prevent them from seeking and finding value and nurture.
What are Community Hubs?
The Hubs are partnerships between schools, churches, and communities that work together to ensure children and young people grow and thrive, in a safe, healthy environment, that enables conversations and practical expressions of faith. The Hubs also provide a local approach with support and capacity provided by our diocesan Community Hub Development Advisors.

We work to create a supportive environment where children and young people are listened to and valued, honouring their views and all that they have to enrich the community, and where they have the opportunity to explore spirituality and faith.
Why this approach?
We spoke to the children and young people in the diocese who said that they wanted to be able to explore the big questions in life and have opportunities to make a difference. (Consultation in 2017).

In a recent survey, young people said churches should be welcoming, inclusive, respectful, tolerant and kind (Church of England, Education Dept, Younger Leadership Groups, What church would you like to see? Report 1 - December 2020).

In this context, the Community Hub model can help us connect in a new way with children and young people in their lived experiences through schools, churches, families and the wider community.

The collaboration between people in those three places can strengthen a child's connection to the community around them. Leading to more opportunities for spiritual encounter, connected communities, and a greater understanding of imaginative practice.
How can your church or school get involved?
Contact us by clicking the button below to learn more about how you can begin to build these networks in your own context.

The unique needs of children, young people and families locally will shape how a Community Hub might begin and develop in your area.

Community Hubs are already growing in Wimborne, Bridport, Shaftesbury, Sherborne, Devizes, Warminster and Royal Wotton Bassett and the list is set to grow in the coming years.
---
Related News
Dreamscheme takes place in Shaftesbury housing estate

A Dreamscheme took place on a patch of grass in a housing estate in Shaftesbury this week, the first in the diocese.
---
Contact the Community Hubs Team
Lizzie Whitbread
Senior Adviser for Work with Children and Young People
---
Funded by:
and The Community of St Denys