Staff from the Diocesan Board of Finance are in the process of moving to share the offices of the Diocesan Board of Education in Wilton, for the rest of this year staff are working flexibly from the Guild in Wilton, Sarum College and Stourpaine.
Directions on how to get to the Guild office: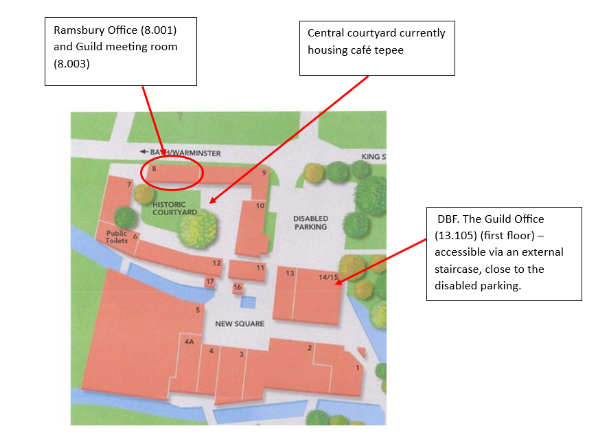 By car
From London (London Road/ A30)  
At St Mark's Roundabout, take the 4th exit onto Churchill Way N/A36. At Castle Roundabout, take the 2nd exit onto Churchill Way W/A36. At St Paul's roundabout take the 2nd exit onto the Wilton Road/A36. At the roundabout take the 1st turning on the left, the car park is found on the right.  
From Southern outskirts (A338) 
Coming in on the A338 as you come into the Salisbury Road, use the left lane to turn right onto Coombe Road/New Bridge Road/A338. Continue to follow New Bridge Road/A338. Continue straight onto Harnham Road/A3094, turn left at Park Wall Jct onto Salisbury Road/A36, go through 1 roundabout, the Guild is on the left.  
From northern outskirts (Warminster/Bath) 
Take the A36 towards Salisbury. At the Wilton A36 roundabout take the 3rd exit towards Wilton village (and Wilton house). Immediately after the roundabout turn right into the car park.  
By public transport. 
By Train
Salisbury train station is roughly 15 minutes drive from the Guild. It has direct links from Salisbury to London Waterloo and Exeter. south Western Railwayhttps://www.southwesternrailway.com/ 
From Salisbury railway station 
By bus
Turn left out of the railway station, walk straight down the hill on to Fisherton Street St Paul's Church (approx. 4mins). Catch the PR3 park and ride bus (Bullbridge) to Wilton roundabout. In the mornings, the 24 and number 2 also go to the stop just after the Wilton roundabout, in which there is access to the Guild through the side entrance.
The buses run approximately  every 10 to 15 minutes. Salisbury Reds - Buses across Salisbury 
By Taxi
There is a taxi rank at the railway station. The estimated price of a taxi is £12 to £15 pounds. It may be more depending on the time of the day and the traffic. 
Diocese of Salisbury units. 
Ramsbury Office: 8.001 
Meeting room: 8.003 
Parish Support: 13.105
From main front carpark entrance-
Cross the bridge directly in front of you, walk past the carpeting shop and before the black, metal, bench with flowers turn right and then almost immediately right again, up the stairs and down to the end office. (For Support Hub Offices- they will then guide you to Ramsbury Office/Meeting room)
From back carpark entrance-
Follow the set of silver metal stairs in front of you turn left and walk down to the end office. (For Support Hub Offices- they will then guide you to Ramsbury Office/Meeting room)