On Saturday 30 September, four new lay ministers will be licensed in Salisbury Cathedral by Bishop Karen as Warden of Readers, and many more will renew their promises, as they do each year in a service that celebrates this essential ministry.
Bishop Karen writes, 'We rejoice with those who are to be licensed as LLM and welcomed into the diocese this year. As enablers of mission, teachers of faith, and leaders in church and society, they have a key role in making Jesus known as part of the mission of the local church. LLMs are important members of the local ministry team and a key part of our diocesan vision, forming partnerships in local mission through their connections with work, community, school, and church.'
Lay Ministry Development Officer, Karen Hutchinson, says, "Licensed lay ministers come from a wide diversity of occupations and backgrounds and provide a vital link to the world of work, witnessing to the unchanging love of God in their communities and their everyday lives. Sarum College works hard to ensure that all those called to this ministry can enjoy the learning, and this September will see the launch of a new pathway designed for those who might be put off by more formal academic methods of assessments but who will still benefit from the excellent teaching on offer to prepare people for this vital ministry.
Pictured from left to right: Fiona, Mark, Rachel, and Carol.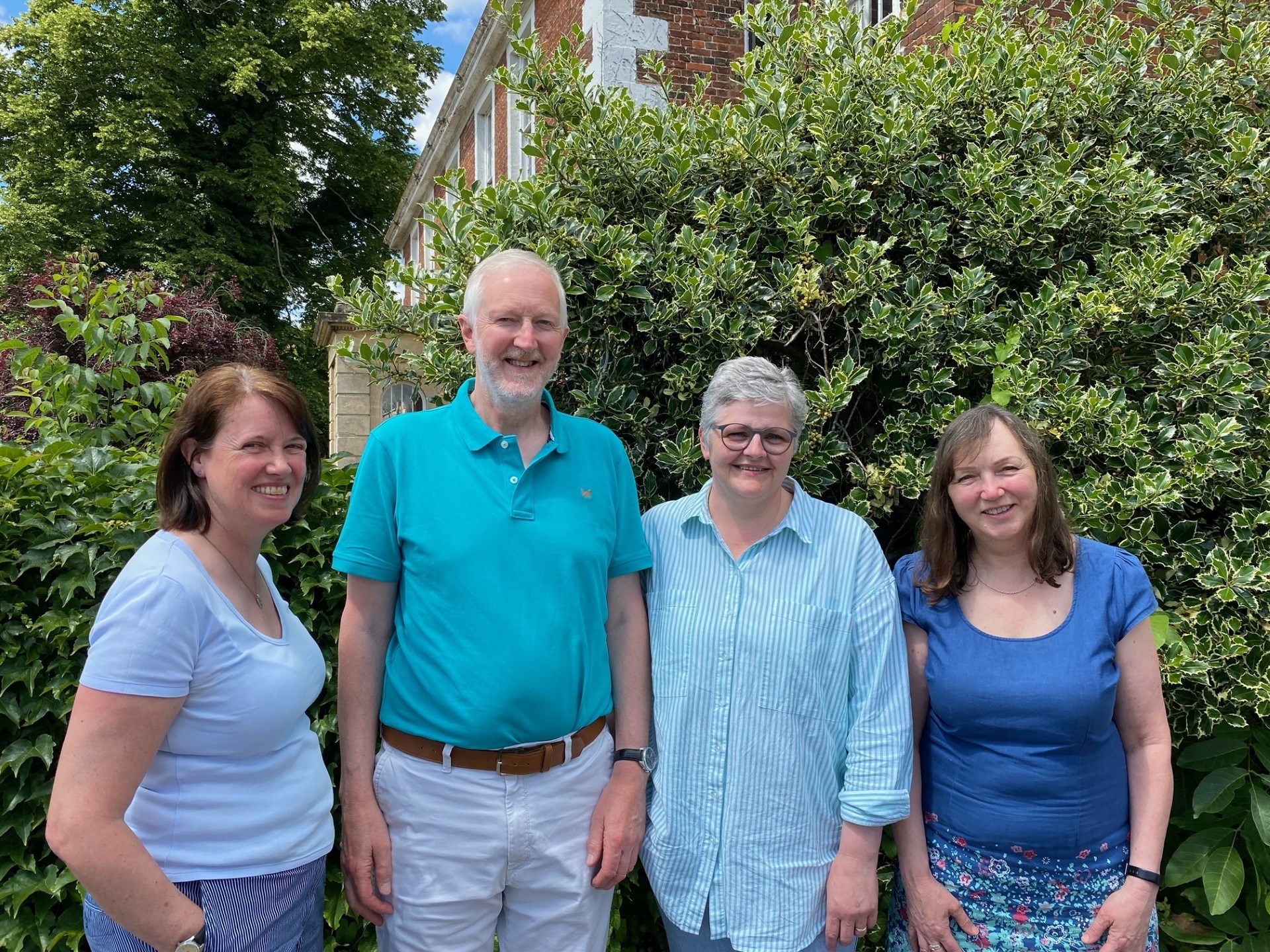 Fiona Hedges lives in the Stour Vale benefice where she is looking forward to the opportunities ahead. She writes: 'Having been a Christian for most of my life, and done all sorts of roles within a church context, I am very excited to be setting out on this new chapter as an LLM. It's been a real privilege, over the past two years, to learn from the amazing tutors at Sarum and also from my fellow students. I hope that, above all, I've learned how to keep on learning and growing through the months and years ahead, and how to reflect on the Bible and the world around me, in a way that enables me to spot what God is doing in my local community, and get involved. I'm not expecting any big changes in what I do, just a gradual evolving of my ministry and my own discipleship. As always, being me, I'm full of ideas for things I'd like to try, but I'd rather do the things God wants, rather than the things I'd like. It feels exciting, but also scary. It's a good job God's in control!
Mark Rathbone describes how his call to ministry developed at Lytchett Minster Parish Church: 'When I retired after a forty-year career teaching History and Politics in 2019, I thought and prayed about how I could better serve Christ and the church now that I had more time. Our church was about to begin an interregnum and I volunteered to preach a sermon four times a year. I greatly enjoyed this and, encouraged by numerous people in the church, I realised that God was calling me to train to be a Licensed Lay Minister, in order to develop and use my teaching skills in the service of Christ. The course was hard work at times, but ultimately very satisfying. I certainly understand more about Theology now and am grateful to the tutors for the quality and variety of teaching. I particularly enjoyed the weekends at Sarum College, both for the face-to-face teaching and for the fellowship with my fellow-students, who I hope and intend to keep in touch with. I am looking forward to beginning my ministry at Lytchett Minster Parish Church and St Dunstan's Upton, where I expect to preach more sermons, lead services and do some pastoral work.
Rachel Stevens (also from Corfe Mullen) has followed a bespoke pathway through training, to take into account her existing theological qualifications and her focus on pioneer ministry. She has thoroughly enjoyed all that the formation process has to offer and comments: 'It's fair to say I'm quite surprised that I'm being licensed as an LLM. Until my husband and I moved to Dorset 8 years ago we had been lifelong Baptists. It was our passion to be part of a church in our local community that brought us to St Nics. It has been quite a journey to say the least, and during that time I have discovered a passion for preaching and teaching that seeks to make Jesus known in a way that speaks to those who find all this church stuff difficult. The last two years have challenged my perceptions, deepened my understanding, kindled my love of learning and fostered self-reflection. I am excited for what God has in store as I move into the coming years, after all, I never saw this coming!'
Carol Bendinelli will be licensed to the benefice of Corfe Mullen, where she has been serving as a Lay Pastoral Assistant. She writes: 'The opportunity to train for Licensed Lay Ministry has been both a privilege and a significant challenge. I commenced my journey unsure of what I had to offer, but with a willingness to serve and a sense of exploration. I have gained a richer perspective of God's love at work in our world in contemporary and historical contexts and a sense of optimism for the future. I feel more equipped and encouraged to live out my faith in a way that demonstrates God's love for all humanity. I hope this will be the start of a fruitful ministry in which I will continue to grow and trust in God's leading and development of my ministry and service. I would encourage anyone who has a heart to serve and feels a sense of God's calling not to ignore that, God is faithful.
If you have a sense that God might be calling you to licensed lay ministry, or just want to find out more, go to Lay Ministry - The Diocese of Salisbury (anglican.org) or contact our Vocations Coordinator louise.ellis@salisbury.anglican.org