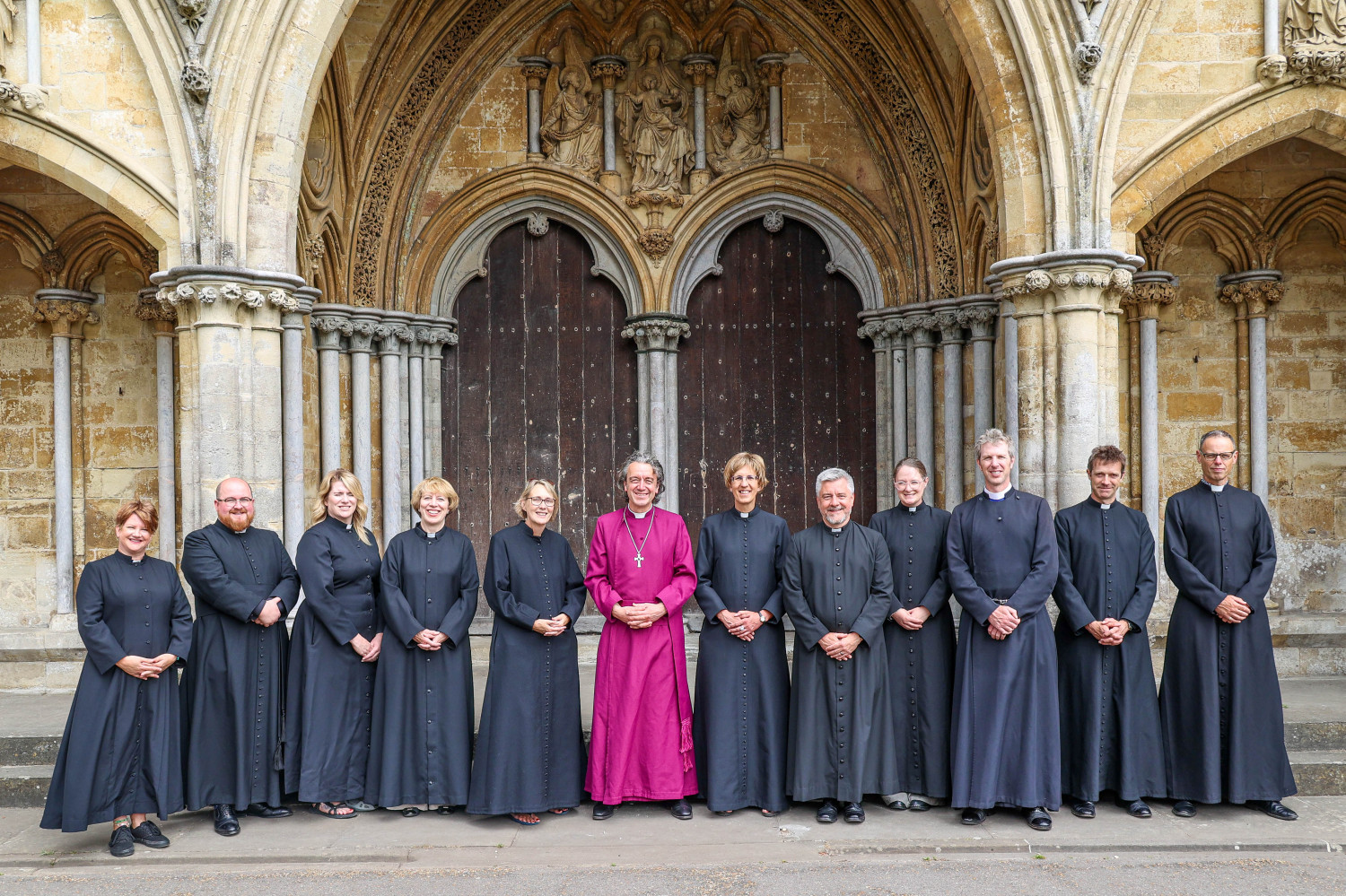 Twelve clergy will be ordained as priests this Petertide.
We spoke to the current deacons to find out what they learnt during their curacy, what surprised them the most, and if they had any advice for those looking into ordained ministry:
For Revd Toby Carson, the journey to curacy was one of fast learning, discovery, and joy. The biggest surprise for him, however, was that so many in our churches who hold a seemingly gentle belief can reveal such immense experiences of faith and robust spiritual discipline.
As for his advice to those exploring their vocation, Toby said: "The treadmill shifts gears unexpectedly, sometimes laboriously slowly, sometimes frantically fast. Just focus on keeping pace and adapting to the rhythms rather than trying to second-guess the gear changes."
When Revd Elaine Galliot reflects on her journey up to now, she expresses joy and gratefulness. The idea of ordination popped up very early in her faith journey and was something God kept prompting her to explore.
Despite being prepared, the journey through curacy has been a steep learning curve as she's walked with people in some of the joy also the most tragic times of their lives.
If she were advising someone who felt a call similar to hers, it would be to expect the unexpected: "You can study at college, read books, and have life experience and ministry experience but that cannot and does not prepare you for the changes that you will go through on this journey. Entirely pursue God's agenda for your life, as I would often make a prayer of 'his will not mine' to sufficiently enable God's will to be done in my life."
In the words of Revd Robyn Golden-Hann, curacy has without a doubt been the steepest learning curve she's ever experienced. Most importantly, she's learnt the necessity of flexibility; to be prepared to be interrupted and to have carefully laid plans disturbed at a moment's notice.
Her advice to any newcomers to ordained ministry would be this: "Abandon any pre-conceived notions of who you think you are, of what you think ordained ministry is all about, and importantly, be prepared to be challenged and surprised as you discover God's grace anew."
Revd Sarah Keen had a "fantastic," first year with the Golden Cap Team. Just before she had started, an ordained friend told her, "don't worry, everyone loves the curate," and how true that turned out to be!
That said, Sarah found the learning curve to be just as steep as she served at least two different churches every Sunday and she's had to raise her technical abilities swiftly to prepare and film the online services. Somehow she manages to keep all these plates spinning despite being a part-time, self-supporting curate - an achievement she credits to the power of the Holy Spirit.
Her advice to anyone nearing curacy is simple. Never give up.
"If you feel God is calling you, then keep following that call however many obstacles life throws in your way. My path of discernment was far from straightforward with many twists and turns but every time I felt like giving up, God gave me another nudge. If I can do it, so can you!"
As with many of the others, Revd Simon Popes' path to ordination was long and winding with his journey of coming back to Jesus and being shaped by him having taken much time, and is still ongoing.
His training during curacy was full of learning and growth, not least the joining of a flourishing ministry to local schools. Nothing quite prepared him, having previously worked in IT, to stand in front of 400+ primary school children every week to lead them in Religious Study. What surprised him even more than this was the fact he loved it, finding immense joy in the keen shouts of "Hello Simon!" by the students.
In terms of advice for anyone exploring ordained ministry, Simon impresses the need to keep trying things out. He said: "For me, small steps along the way enabled this to happen, through lay ministry and involvement in all aspects of local church. If you can experience the rough and smooth and still have a heart for church and ministry, then it's probably for you! I think it is also key to remember the pinnacle for each of us is to find our unique calling, whatever that is. Ordained ministry is not necessarily your pinnacle."
Last, but certainly not least, Revd Angus Mayhew's life was spun on its head by his journey towards priesthood. His former work in property development and management saw boozy lunches and deals in London being replaced by Custard Creams and prayer, but he wouldn't change it for a thing.
"I've learnt that ministry really isn't about me!" said Angus when asked about what he's learnt during his training. At the start, he felt like a teapot that was constantly running out of tea and forever needed to be refilled. But now that he's become settled in his role, his ministry has become more like sitting by a Wiltshire chalk stream telling people about the delight of its never-ending waters, its rich habitats, and the grace of God's creation.
His advice to others on the same path would be this: "If you're thinking you fancy a go, rest assured God is definitely calling you to something! There are so many ways to tell people about God's love, so be open to the variety of ministry. And finally, commit it to prayer and talk to the good people of the diocese."
We pray for all of those who are to be priested this year as they continue to be moulded by the Holy Spirit and journey through ordained ministry.
If you, like any of the ordinands mentioned here today, have felt your own calling to ministry, or just want to explore how to put your talents to best use, you can find out more information on the Diocese of Salisbury websites ministry page.