On Saturday 1 and Sunday 2 July, the diocese welcomed 10 newly ordained Deacons and 12 newly ordianed Priests. The services were held by Bishop Stephen, Bishop Karen and Bishop Andrew at Salisbury Cathedral.
You can read about the Deacons below or on our social media, Facebook and Instagram: @dioceseofsalisbury, Twitter: @DioSalisbury
Read here about advice from last years Deacons!
Both services have been live-streamed via the Salisbury Cathedral YouTube channel. Watch the Ordinations of Deacons on Sunday here and watch the Ordination of Preist's on Saturday here.
Please continue to pray for all the candidates to be ordained deacon this Petertide, their training incumbents (TI) and the parishes they will serve.
Daniel Harland, Radipole and Melcombe Regis with Chickerell Benefice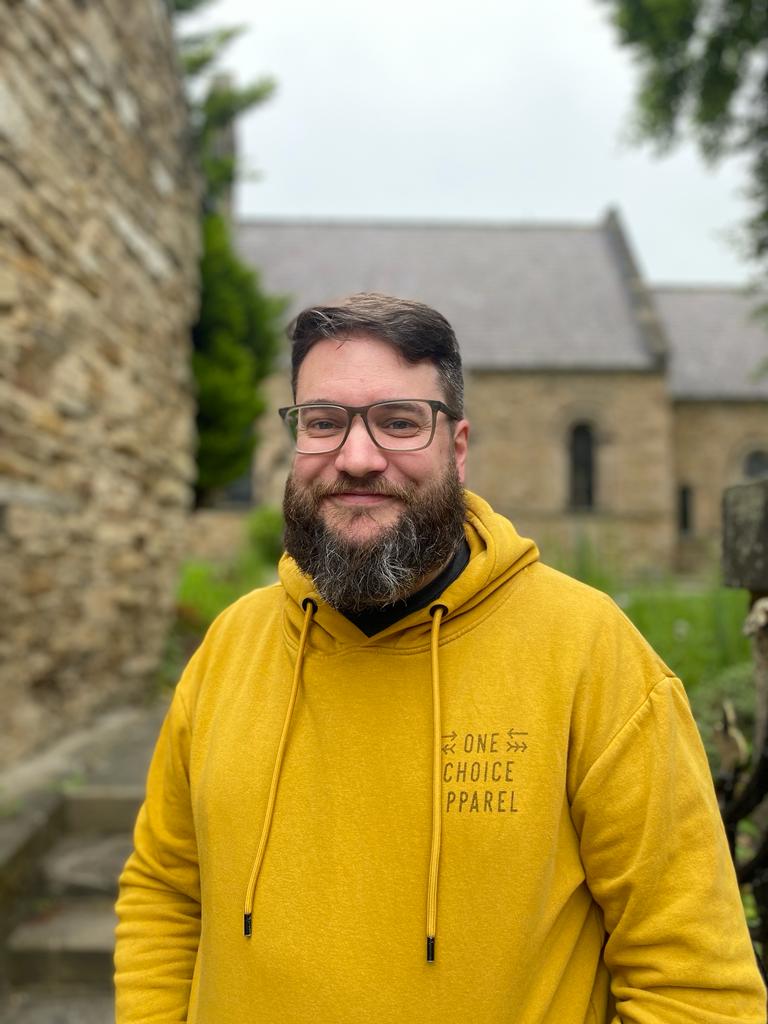 Daniel came towards faith at the end of his twenties. It was a gradual process spurred on by seeds sown earlier in his life by a Navy Chaplain, but it wasn't until he'd begun to feel rudderless and without a course that God started to make himself known.
It began in small encounters or conversations that gradually grew into more persistent feelings of something missing that led him to attend church for the first time where he was warmly welcomed and encouraged from day one.
When he did, eventually, come to faith, it had felt like a home coming for him. In order to settle in, he began helping out where possible and volunteering on different service rota's where a he discovered a growing sense of fufilment in serving those that had welcomed him so warmly.
It was a while later, after much prayer, conversation, and some not so subtle prods of encouragement from the congregation, that Daniel began to consciously take the first tentative steps towards exploring ordained ministry that led to his training at Cranmer Hall in Durham.
The academic work he encountered there was broad and varied, covering biblical studies, Christian doctrine and New Testament Greek to name a few. Whilst the main focus of the college remained the spiritual formation of the students, enabling each person to go deeper into their relationship with God and his creation.
On his time exploring ministry, Daniel said: "For anyone exploring ordained ministry, one piece of advice I would give is to stay open to what God is saying to you. Discernment is a collaborative process and you will meet some fantastic people along the way; be open to what they have to say and to what God might be saying through them."
Deborah Mackay, Wilton with Netherhampton and Fugglestone Benefice.

As a Christian for most of her life, Deborah worked in medical research for her whole career until feeling a strong call to ministry in her early thirties. At that time, she was not accepted for training, and in her deep disappointment reasoned that, as it were, God wanted her to remain a diligent scientist. And so she did. Whilst continuing with her research, however, she could not help but feel that something profound was missing from the heart of her life; and, in her fifties, she felt that renewed call once again.
After discovering that she was not, 'too old', to seek ordination, she reentered the process and put herself forward once more. It was to her great joy that she was accepted, and Deborah soon began her training towards ordained ministry. Her journey began with a part-time Masters degree in theology, ministry and mission, with teaching in Cuddesdon College and a parish 'home-life' split between St. Lawrence, Stratford-sub-Castle and Salisbury Cathedral.
For Deborah, the college experience was one she adored with its breathtakingly rich ecosystem of ordinands of all ages, stages, backgrounds, and faith journeys; where every individual had so much to learn from one another and so many ways to provide support. This rich Christian community was one she found echoed in her own parish placements, where Christ's body is living and thriving in different ways.
Deborah said: "What surprises me most is that, somehow, I feel I have become more 'myself'. In ministry training the word 'formation' comes up a lot – being open to being shaped by God and our experiences. Before I started, I thought my training would probably make me less sciencey and more churchy; but to my surprise, my science and faith have formed together into something that coheres and deepens both."
It was not always such a smooth ride, however, as Deborah recalled the doubt she experienced when starting her journey. Doubt that her call was of God, especially since her previous attempts had not been borne out. It took her several experiences over several months for her to realise that she could doubt herself all she liked, but she had no need to doubt in God. "That's what I'd say to another person on this journey: you might doubt in yourself, but you can trust God."
Sam Park, Cannings and Redhorn Benefice

Faith was not something that Sam ever really thought about. It was not until her time at University, where she was invited to the Christian Union by a friend, that she began to think about God and faith may fit into her life.
Over the next fifteen years, Sam dabbled with attending church, but couldn't shake the feeling that something was missing, that she did not fit in, so, she soon left.
In her early thirties, she moved into a house not far from the village's parish church which she often passed whilst walking her dog; each time feeling an ever-increasing desire to go inside. It wasn't until a year later, however, that she decided to try again.
After receiving a warm welcome, she returned the following Sunday too, and the one after that, until before she knew it she'd attended for a number of months. It was there, sitting silently in church, that she felt a calming presence never experienced before, something powerful yet so gentle at the same time.
It was around six months later that she picked up the courage to attend a vocations day to tentatively dip her feet in the water, and with the support of all those helping her discern her calling, she embarked on her training towards ministry.
Speaking about the privilege of training for ordained ministry, Sam said that: "It has been a formational experience and the person I am now is not the one who walked through the doors into theological college three years ago. The combination of personal study, working with others and living out your ministry in your own context has widened my understanding of the world, myself and the revealed nature of God."
"I have four pieces of advice for someone looking into ordained ministry. Look to the support of others to help you discern if this is what God is calling you to and pray, pray, pray!"
Richard Holness, Lyneham and Woodhill Benefice

Whilst growing up in Scotland, religion was a stranger to Richard. There was no church, no religion at home, and the closest he'd ever been to a church service was a school assembly.
After moving to England things were much the same until at a later age he enrolled in a boarding school that held chapel every Sunday, beginning to encounter more bible stories and his first experience of liturgy. It planted a seed, but it was not one the young Richard recognised or even understood.
The moment when things changed for him was the commemoration service at the end of his first year at the senior school where the retiring headmaster read 1 Corinthians 13 from the Authorised Version, substituting the standard 'charity' for 'love' as he went. Suddenly the stories and the teaching he'd liked and admired made sense as a way to live. This was for him; he was loved, and he could love, and here was the blueprint.
Looking back over his life, Richard saw how God had been calling him to ministry since those early days of discovery at boarding school. At university, that call became clearer and louder, but he ran away from it. He wasn't ready and didn't have the means to pursue it properly.
Time passed and life happened until one day he and his wife were back at church in what felt like a return to home. Having been welcomed graciously and gradually becoming more involved with church life, Richard made the decision to attend a vocation day and discuss these feelings with the vicar. In the end, the pull of ordained ministry, and the recognition of that call by others was too important to be ignored anymore.
His advice for anyone looking into ordained ministry is: "Be patient and prayerfully trust the process. There might be times when it seems like things have stalled, or even gone backwards, but if it's right you'll find your way, there will always be support when you finally discern the outworking of your call. Always pray and listen carefully for the answers."
Joseph Stone, Salisbury St Francis and St Lawrence Stratford sub Castle.

Joe was a teacher before he trained for ordination. He was brought up in a Christian home. As a teenager, Joe questioned his faith and eventually rejected it. At aged 19, a friend showed Joe a tract which clearly explained that Jesus is God's Son and the redeemer of mankind. This led to Joe doing an Alpha course, knowing his sins forgiven through faith in Christ, and being filled with the Holy Spirit.
Working in church schools gave Joe an experience of working alongside Anglican ministers, and this led to him exploring ordination for himself. Whilst exploring vocation, Joe read several books to help his understanding of Anglican priesthood, including Making God Possible by Alan Billings, The Life and Work of a Priest by John Pritchard, The CofE Past and Present by Monica Furlong, On Priesthood by Stephen Cottrell and The Widening Circle by Graham Tomlin.
Hobbies-wise, Joe is a keen pianist. He enjoyed being involved with music at his placement church in Oxford, supporting with piano/singing and working with musicians to craft new songs for worship.
A helpful session towards the end of his training was with the leader of the New Wine network. He took ordinands through a systematic theology from a charismatic perspective: Jesus is enthroned, the fruits and life of the God's kingdom are substantially available, yet we live in the tension of this 'now and not yet kingdom'.
Jeff Adams, St James, Poole.

Having grown up in a rural church in the village of Poughill, Cornwall, Jeff found his faith at a young age thanks to the deep Christian roots throughout his family. His parents both being actively involved in leading churches when he was a child, he often found himself present at a range of events where God was always a reality. For Jeff, the possibility of ordination was very much a, 'maybe one day, but not yet,' sort of idea.
Being particularly conscious that he needed to grow up first, he began a career as a teacher where he would happily stay until one Easter Sunday in 2018 when he was overcome with an overwhelming sense of action. "Ok God," thought Jeff. "If this is really you, then I want somebody to talk to me about ordination this week." Nothing happened in the days following, until Friday morning when in front of most of the School's teaching staff, an assistant head casually referred to him as Reverend Adams. After this, he decided that perhaps he maybe ought to explore it more seriously.
So far, Jeff's training pathway has been a 3-year part-time course at Sarum College in Salisbury where he has thoroughly enjoyed his time studying a variety of modules that have stretched his understanding exponentially and revealed much about the Christain faith - and even more that he is yet to learn.
Georginah Phillips, St Andrew, Jersey.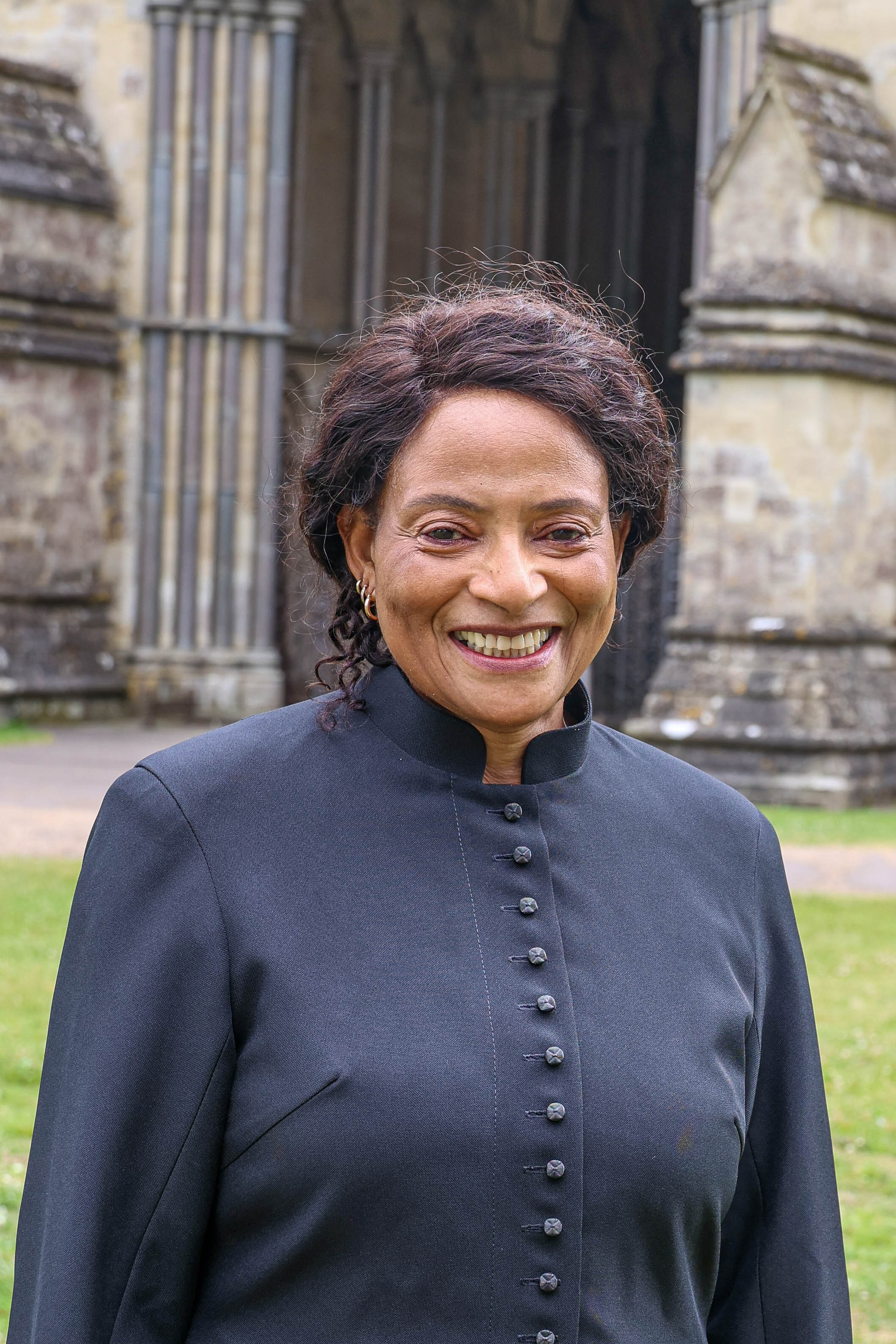 Fondly known as 'Georgie' to her friends, was born and raised in a Christian family living in Zimbabwe. Some years later towards the end of 2016, she made the move to Jersey to start a new life with her husband Barry, who sadly passed away in 2019.
Before making the move to Jersey, Georgie had trained for ordained ministry and was on the cusp of ordination to the Diaconate when the country voted against the ordination of women by three dioceses to two. Georginah and two other women who trained alongside her were therefore not able to be ordained, whilst their male counterparts were able to continue their journey.
Despite the disappointment, she prayerfully and patiently waited, knowing that God's time would surely come and that she would do whatever she could to see her passion come to light.
It was from the tender age of five, when Georgie first started primary school, that she knew God was calling her to serve him somehow. During her schooling, she explored this calling through the Scripture Union, church choir, and even debated joining the Roman Catholic Nuns before some subtle guidance from her father.
So, she continued to pray and to search until she could see clearly that she was being called into ordained ministry and so registered to study for a degree in Theology and Religious studies. She also studied for a qualification in Systemic Family Counselling and graduated in 2014 when she should have been ordained.
Since coming to Jersey, Georgie has served St Saviours as a lay deacon.
Rebecca Mcdonnell, Sherborne with Castleton, Lillington and Longburton.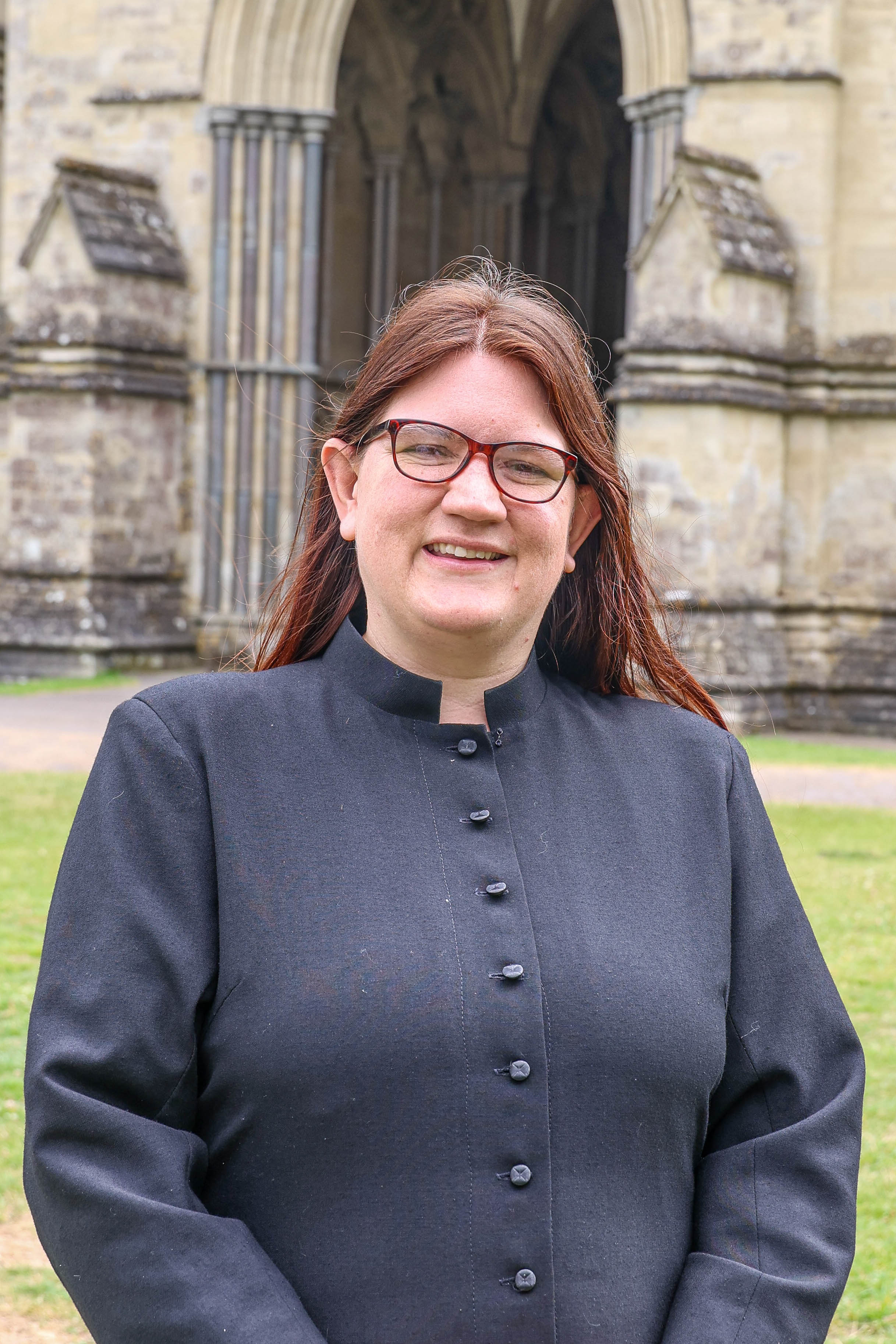 Rebecca always felt God's presence in her life; her mother came to faith after the birth of her and her brother and she treasures her early memories of them going to the local church together.
Her family went on to settle at St Helen's Church in Abingdon, where Rebecca found herself serving as a sides-person by the age of seven, and a few years later she was a confirmed member of the faith. It was around this time that she truly started to sense her calling; and although she was not yet sure of what form this would take, it held a grand sense of importance to her.
Throughout the years that followed, Rebecca was deeply formed by two excellent secondary schools and by involving herself in the chaplaincy ministry there which she still holds great love and respect for.
After initially going to a drama college in London for costume design, she soon moved to the Salisbury area to start taking theology classes at Sarum College as her call to ordained ministry grew ever stronger. There she met her husband, Stewart, and settled down in the Parish of Tisbury where Rebecca worshipped and took on a number of different roles at St John the Baptist and The Trussell Trust where her vocation was shaped further.
Here, the pair had their two boys, Cullin, now aged nearly seven, and Murdo, now aged three. The 'official' part of her journey to ordination began in 2013 however, where she received much support and encouragement both at a diocesan level, from her parish church, and from all her family and friends.
It was a long road to a Masters in Christian Liturgy at Sarum College whilst caring for two children but with the support and guidance of those around her, she was recommended for full-time training in 2019 and moved to Ripon College in Cuddesdon a year later.
Rebecca said: "Training at Ripon College Cuddesdon has been wonderful, we've benefited so much from living in the community, and the children have been so happy living with friends and being cared for by so many. What has surprised me the most is how much I've changed and how far I've come, even when you feel like you're struggling with the demands of academic deadlines, placements, plus family responsibilities, the Spirit is at work as you are moulded for ministry."
"The best (and most obvious!) advice for anyone looking into ordination is to pray and trust God's call and God's timing. I would also say ask for help and talk to those around you, it's OK to be vulnerable."
Michelle Cobley, Lychetts and Upton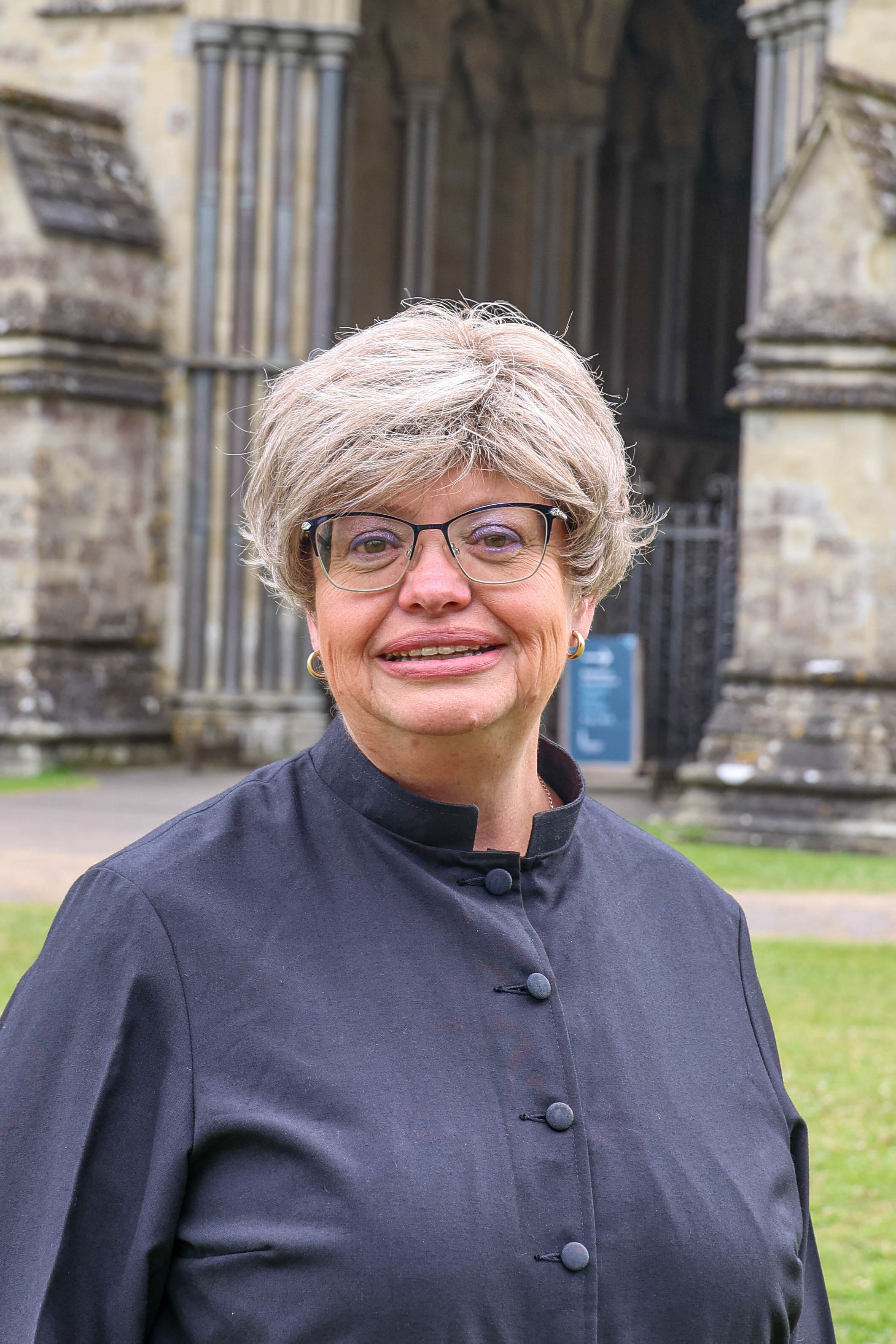 Will Burditt, Blanford Forum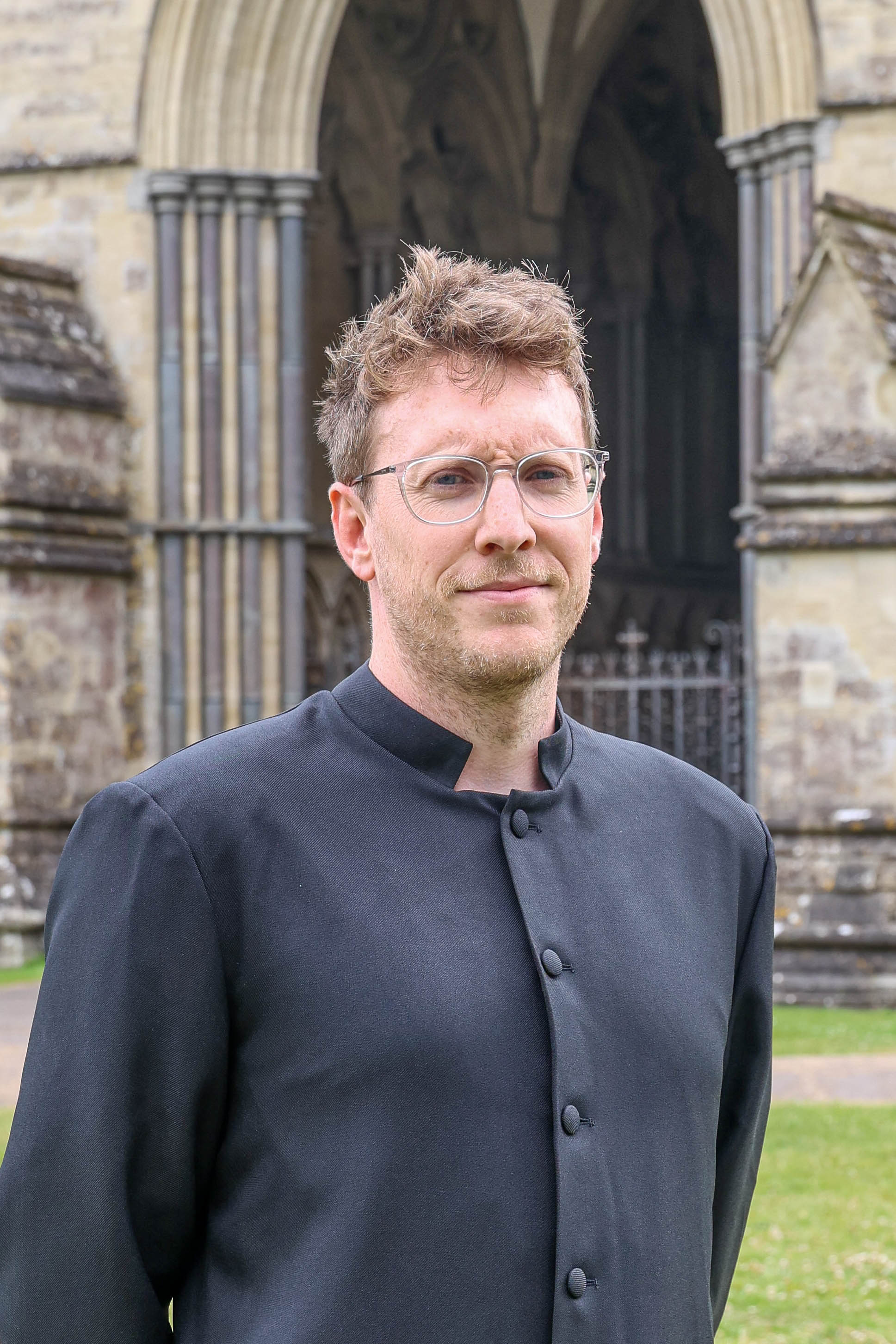 There are many ways that we as Christians can serve our communities and our faith, and every follower of Jesus is called to serve in one way or another. If you're interested in exploring your calling, or if you'd just like to find out more about the process, you can find the diocese' webpage on Ministry.