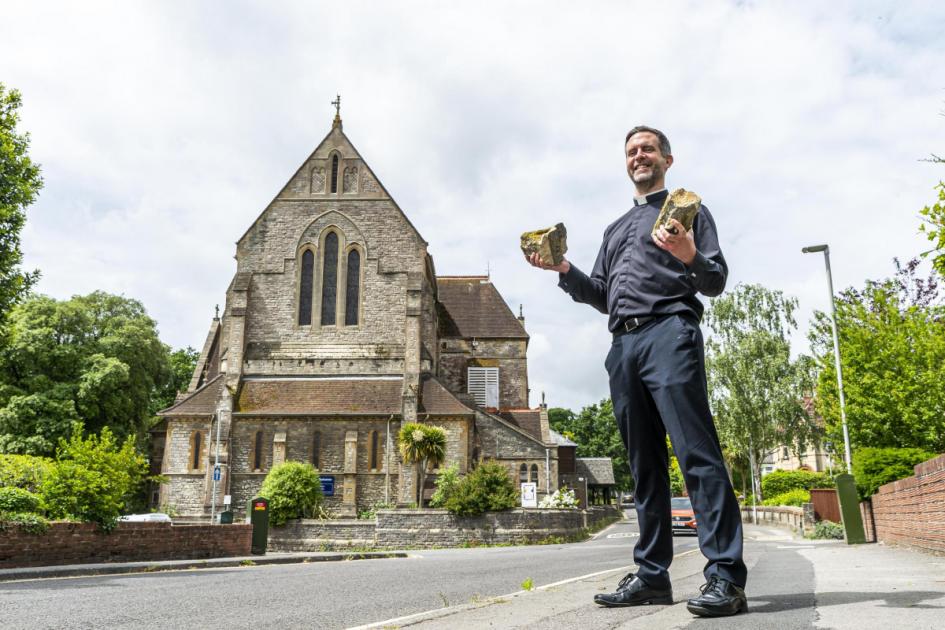 Earlier this week, St Peters, Parkstone unveiled a brand-new roof cross after its predecessor was cracked in half by lightning.
Twelve months after the thunderous lightning strike damaged St Peter's, a new cross was cut, carved and blessed.
More than £100,000 worth of church repairs were needed after the storm in June last year, amid nationwide Platinum Jubilee celebrations.
The church organ and electrics were severely impaired, while half of the stone cross on the roof came crashing down after a direct lightning strike – causing further damage to the roof and guttering.
With interior repair work prioritised, a new cross was finally unveiled and installed on Monday 19 June.
Cut from Bath Stone and weighing more than 200 kilograms, stonemason Jerome Maguire carved and prepared the new cross ready for installation.
Speaking to the Bournmouth Echo after the storm in June last year, Revd Mike Trotman, Rector, said: "The cross of Jesus Christ bore the burden and took the hit."
The nearby pub The Bricklayers also thanked the church on social media for 'taking the hit'.
The pub also kept and framed the front page of the Echo's 9 June 2022, edition detailing the incident.
A year later, Revd Mike said he was delighted with the new cross and even performed a blessing on the stone.
Revd Sally Bedborough, Associate Priest, then sprinkled it with water before it was lifted to the heavens.
Revd Mike said: "St Peter's is here for all who live in Ashley Cross. I hope our new cross will proclaim God's love to all who look upon it.
"It will certainly stand out for a few years before becoming weathered like the rest of the church's masonry.
"Ashley Cross is such a vibrant urban village and it's wonderful to work with the local parishioners, community groups, and even the pubs and cafes on Parr Street, who really appreciate our role in serving the local community."
Revd Mike added: "Let's hope that lightning never strikes twice."