From 4 - 8 July 2022, we saw the most welcome return to 'in-person' primary and first school leavers' events after a gap of two years!
Whilst in 2020 and 2021 we celebrated the leavers virtually, this year it was wonderful to be back in the company of over 1,750 young people and their staff over the four days. And for many, it was especially marvellous to be in the breath-taking and majestic spaces of the Cathedral and Minster for the first time.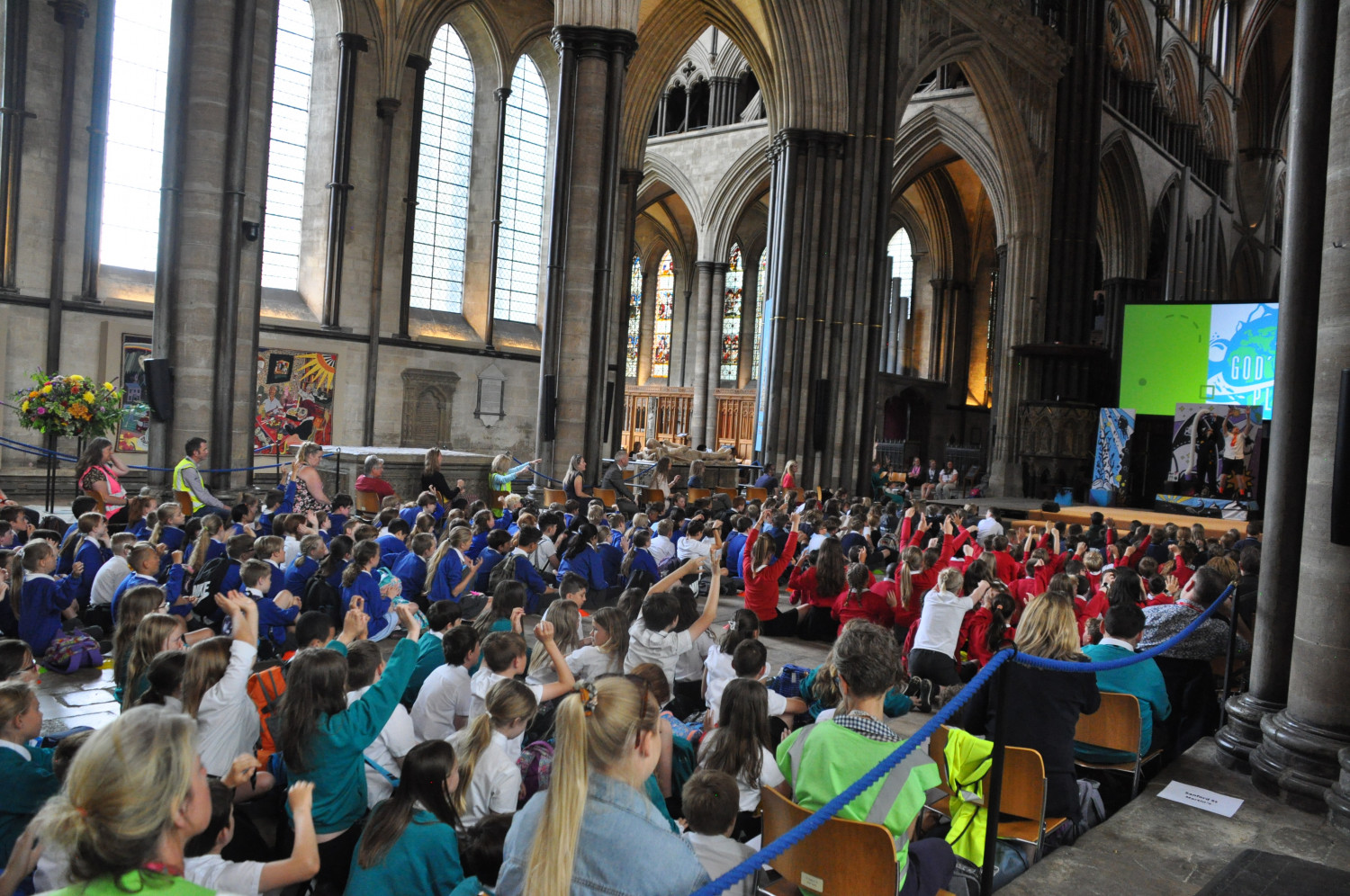 Dean Nick began the week by welcoming everyone and encouraging them to return to their cathedral at any time. He encouraged students: "This is your cathedral!"
This project is shaped and led jointly by a team of colleagues from the Diocesan Board of Education (DBE) and Salisbury Cathedral's Education Team and has been in the planning for over a year. Together with RISE Theatre – a Christian theatre group who perform in schools all over the country – the day involved schools enjoying the interactive show, 'God's Planet'. With an environmental theme the songs and actions learned at school and moments of prayer and reflection gave us all time to think about how to be Planet Heroes (good stewards of God's planet – Genesis 1).
At the end of the service there was a gathering on the grass outside where children were blessed and encouraged to take forward the Christian values and learning from their current school into next term, as they begin the next chapter of their school lives.
The children clearly enjoyed themselves while marking this special transition event in their lives.
Some of the comments shared by schools so far:
"Sam and Kit were funny!" and "We liked being in the cathedral and enjoyed the interactive parts of the service." Burton Bradstock CE Primary School
"The acting was really good. The theme of the show was good - God's Planet. I liked it because it was weird, but in a good way. We all liked the participatory aspect of the show." Sandford St Martin's School
Staff at Powerstock School said, "They loved being in the cathedral and with other schools - a real occasion. They had a really warm welcome and loved the whole day."
Thank you to everyone involved in putting this service together.