The Ordination of Deacons and Priests will be taking place at Salisbury Cathedral this coming weekend.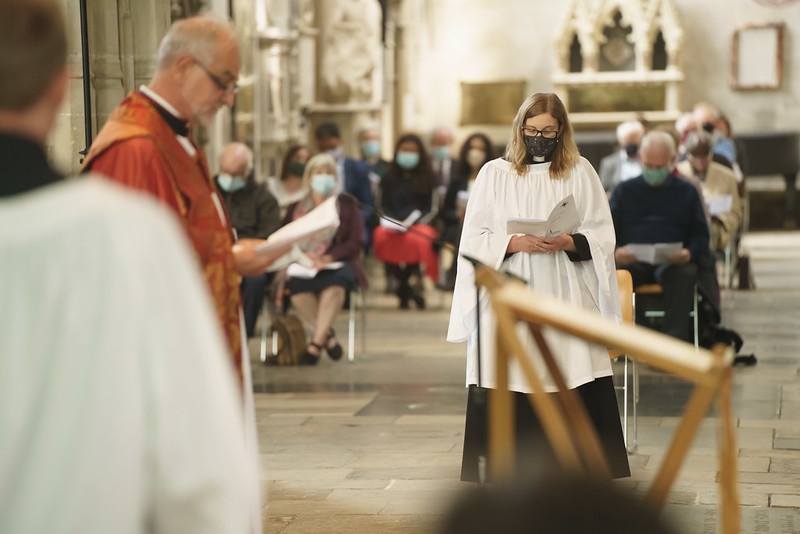 The Ordination of Priests will take place on Saturday 2 July, at 4.30pm, with the Ordination of Deacons happening the following morning, Sunday 3 July, at 10.30am
Ahead of the ordination, the Revd Nigel Done, Diocesan Director of Ordinands, whose job it is to help people find their calling, said:
"For 21 people and their friends and family, the ordination services this weekend will be culmination of a life changing chapter in their lives. The adventure began when each person experienced the most powerful thing known to humans; love. They dared to accept that God loves them.?
"Now they are fulfilling a call to share that love with others. That's the thing about the love of God, it gives you a purpose and changes your life like nothing else. If you want to hear and see a bit more about how love can change your life and our world (and who doesn't!), come to the ordination services on either Saturday at 4.30pm or Sunday at 10.30am."
We have been releasing a series of videos profiles on each ordinand throughout June. It has been brilliant to hear the variety of each individual's journey to ordination, and can be seen on our YouTube channel by?clicking here.
Please pray for those being ordained and the parishes in which they serve.?
Ordination of Priests: Saturday 2 July, at 4.30 pm
The Revd Steve Atkins to be Assistant Curate at Spetisbury with Charlton Marshall and Blandford St Mary
The Revd Michael Badger to be Assistant Curate at St George and All Saints, Harnham
The Revd Lindy Cameron to be Assistant Curate at Hilfield Friary
The Revd Oliver Fricker to be Assistant Curate at Hampreston
The Revd Jennifer Nelson to be Assistant Curate at Three Valleys
The Revd Holly Newton to be Assistant Curate at White Horse
The Revd Margaret Metcalfe to be Assistant Curate at Wylye and the Till Valley
The Revd Lisa Rodrigues to be Assistant Curate at Clarendon
The Revd Mary Terry to be Assistant Curate at St Francis and St Lawrence Stratford Castle, Salisbury
Ordination of Deacons: Sunday 3 July, at 10.30 am
Toby Carson to be Assistant Curate at Iwerne Valley
Margaret Crosbie to be Assistant Curate Puddletown, Tolpuddle and Milborne St Andrew with Dewlish
Michael Eaton to be Assistant Curate, St Mary's West Moors & St Michael's, Verwood
Katharine Eaton-Wells to be Assistant Curate at Holy Angels, Lilliput , Poole
Elaine Galliott to be Assisted Curate at St Andrew's, Kinson and West Howe
Robyn Golden- Hann to be Assistant Curate at St Aldhelm's, Branksome
Sarah Keen to be Assistant Curate at Golden Cap
Angus Mathew to be Assistant Curate at st Mary's, Sturminster Newton
Heidi Merett to be Assistant Curate at Dorchester and Winterbournes
Katey Minshall to be Assistant Curate at Royal Wootton Bassett
Simon Pope to be Assistant Curate at Avon River Team
Daniel Washbrook to be Assistant Curate at Creekmoor