An ordinand who moved to Sherborne at the end of her training has been ordained deacon at a special service by Bishop Karen - the first time that a woman bishop has ordained a deacon in the diocese.
Belinda West moved from Gloucester diocese and has spent the summer getting to know her new congregations in the Spire Hill benefice as a Licensed Lay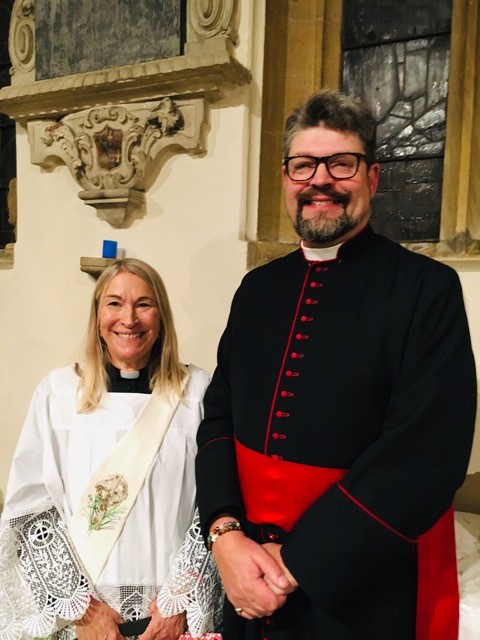 Worker.
Bishop Karen said: "Belinda's ordination to the deaconate was a special occasion and included in the congregation people from the benefice, her family and friends, including those who trained with her at Sarum and are serving their curacy in Bath and Wells and Bristol diocese."
In this diocese, the tradition has always been for the Bishop of Salisbury to ordain all priests and deacons at the Cathedral, therefore Brenda's ordination was the first to be carried out by a woman bishop.
Belinda said: "My ordination service which took place at St.Mary's Stalbridge on Sunday 15 October was a time of both personal and collective celebration, affirmation and hope."It was for me the end of a long personal vocational journey that began in my teens. So I was delighted to be able to choose an anthem 'I want to walk as Child of the light' from that part of my life. I was also delighted to have my grandsons there as servers as part of the service (and my dog Phoebe!). And then I was thrilled to discover that this was the first ordination by a woman bishop in the Salisbury diocese too!
"The ordination service truly reflected the inclusive love and warm welcome I have felt since joining the Spire Hill benefice. I look forward to continuing my pilgrim journey with this very special community. My heartfelt thanks go out to all who made this such a moving occasion, especially the Rev Canon Richard Hancock."