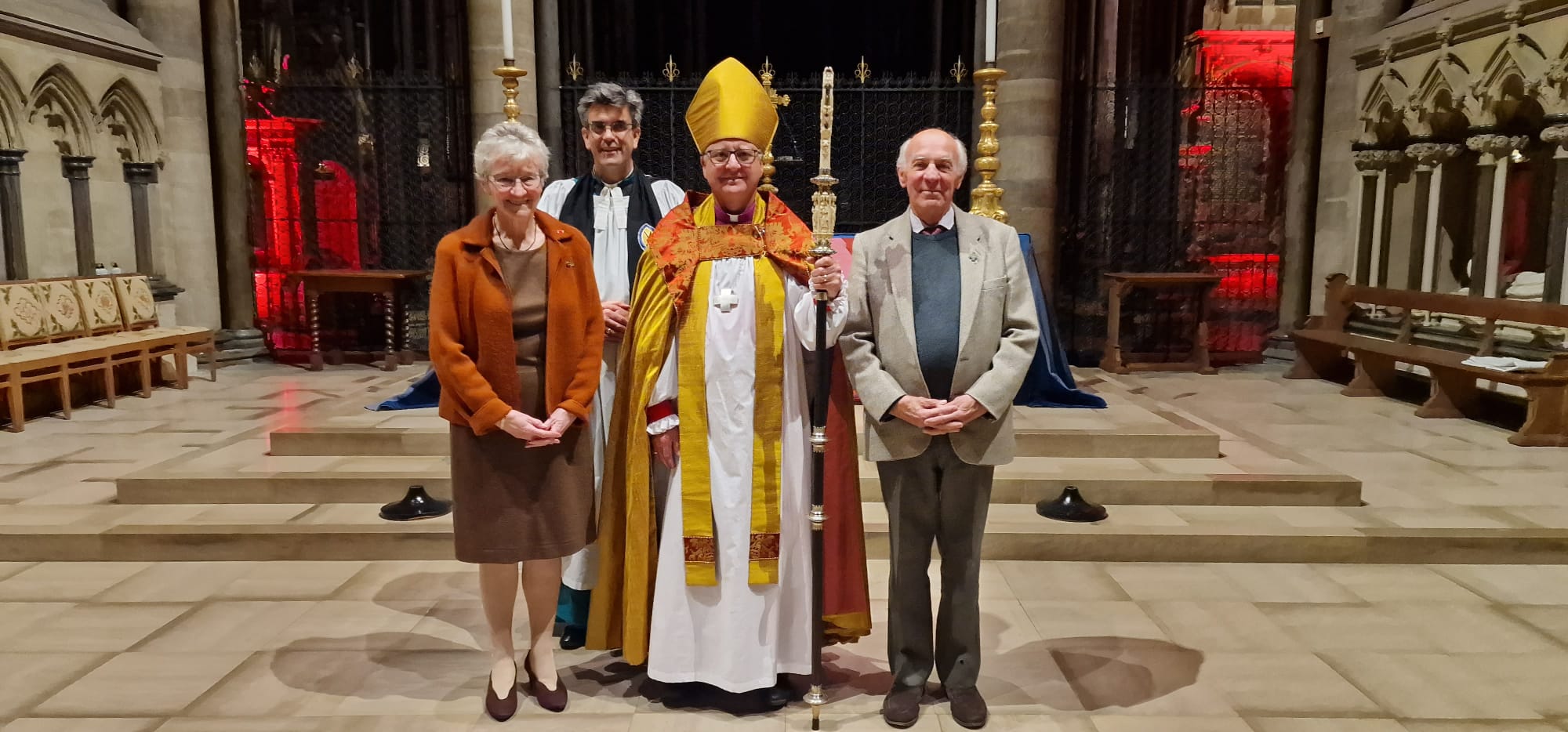 On Sunday 5 November, Bishop Stephen gave out 3 St Aldhelm Crosses in a service at Salisbury Cathedral. In 2005, on the 1300th Anniversary of the consecration of St Aldhelm as the first Bishop in this part of Wessex, Bishop David Stancliffe established a diocesan award, the Cross of St Aldhelm, to give to people whose contribution to the life of the Church and the Diocese goes far beyond the normal call of duty.
This award is presented to a small number of Church members who have made an especially significant contribution to our shared life. This year, Crosses were awarded to the following: Rosemary Allen, David Cranston CBE and Jane Barker CBE.

Bishop Stephen said this about the recipients:
Rosemary Allen
Rosemary has held many positions with Mothers' Union both at branch and Diocesan level and has forged personal links with the Sudans. Rosemary has now taken on praying for and visiting Guernsey Deanery within the Diocesan Cycle of Prayer. Having grown up in Salisbury, Rosemary has a talent for linking people together and discreetly suggesting their suitability in various roles.
Rosemary is a dedicated member of the cathedral and was active in the Community Forum, the food bank collection, the education team, and Holy dusters. She held a strong voice maintaining ecumenical exchange amongst churches. Rosemary was married in the cathedral and is a faithful member of the congregation and maintains a weekly bible study prayer group online with women in Abu Dhabi, where she goes to visit family. Rosemary is a caring visitor to elderly and infirm and often does so on her splendid bike!
Rosemary is a worthy recipient of the St. Aldhems cross for her devoted dedication to work in the diocese and services to the Church.
David Cranston CBE
David has been awarded a Cross of St Aldhelm for his work on behalf of the Diocese as the Chair of the Audit and Risk Committee and for his input into the Governance Review Group. David has also had a role as Churchwarden in Durrington. David has drawn on his career in the Army as a Brigadier and as Director General of the National Association of Pension Funds to scrutinise the many papers that this diocesan role produces. His attention to detail and wisdom in these forums are a huge contribution to helping to ensure that there is proper governance and that decisions are properly taken for good reason.
David has a breadth of knowledge that the has allowed the Audit and Risk committee to be well guided and is a worthy recipient of a St. Aldhelm Cross.
Jane Barker CBE
Jane has been closely involved with the cathedral, where she has served as long-time chair of the Finance Advisory Group and a member of Chapter. Jane retired from these roles earlier this year, by which point she had begun acting as a volunteer accounts clerk in our Finance Dept. Her career began as a Chartered accountant and has held many senior roles including Finance Director at the Stock Exchange. Jane has commitment to music and has been Vice President of the Royal College of Music. Jane lives in Harnham and is an active member of the Cathedral community. Jane was awarded CBE in the Queen's honour list in 2014.
Jane is an asset to the diocese and we are delighted to make this award to her.