October celebrates Black History Month; a time for celebrating, sharing and remembering the importance of the impact of black heritage and culture.
The Church of England says "The Church has immense formative power within the wider community and such power begins in our worship of God. Racism is at root an issue of power, the limiting of the capacity of certain people and groups to act whilst privileging and promoting the capacity of others, solely on the grounds of racial characterisation. Our worship and the life of the Church are not free from these dynamics."

There are a variety of resources to spark conversations and support church services. At the heart of this invitation is an intentional focus on and attention to God, and God's will for all people: life in all its fullness according to the image of God in which all are created.

We'd love to share what is happening in churches in the Diocese of Salisbury - do get in touch with us. Small grants are available from the national church to help put on commemorations for Black History Month, contact the Racial Justice unit to find out more.
New film for Black History Month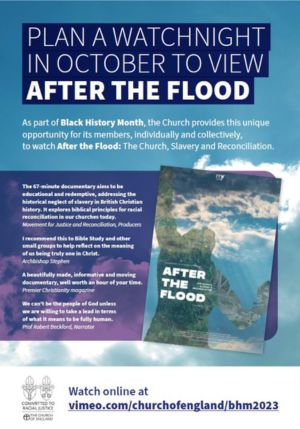 'After the Flood' is a new film that looks at the roots of church involvement in the Transatlantic Slave Trade and legacies, from instituting white supremacy, to the admission of racism today. It explores how the church has faced its slave past and made positive change, and ask what Christian reconciliation might look like today.
Collect for Black History Month
Compassionate God,
who sent Jesus Christ to deliver us from all manner of injustices and inequalities,
create in us new hearts and enlarged visions,
to see the image of God in every person,
irrespective of background, race and ethnicity.
May we be generous in our love of others
as we work towards ending misunderstandings, racism and injustice, creating communities of human flourishing,
through Jesus Christ your son our Lord,
who is alive and reigns with you, in the unity of the Holy Spirit, one God, now and forever
Amen